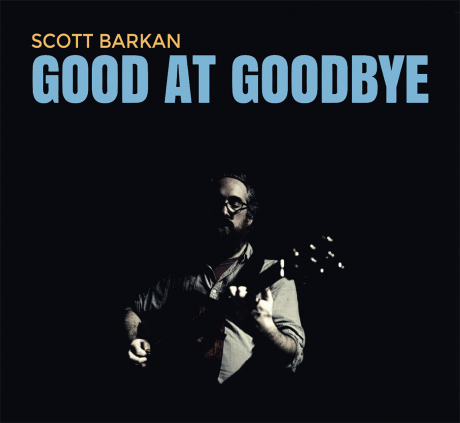 Resident VCFA troubador Scott Barkan has released his long-awaited follow-up to Flightless Bird. The album, Good at Goodbye, is "an intensely personal self examination coinciding with the end of a 10 year relationship and many other seismic life changes." The album is a 10 track tour de force, and represents the culmination of his work at VCFA in a lot of ways. The synthesis of indie rock, jazz, folk, pop, and avant-garde improvisation is something that he spent a lot of time at VCFA working on leading up to his August 2016 graduation. Many of the songs heard on the record were heard previously in evening concerts at the school.
He released the album on October 25. You can purchase it on a pay-what-you-want basis here, on Bandcamp.
The new record isn't his only iron in the fire right now. Scott is a sought-after session and touring guitarist. He just wrapped up a national tour with singer-songwriter Marian Call in support of her new album, Standing Stones. (You can hear his guitar work on the album itself.)
Barkan is also an Adjunct Professor of Songwriting and Music Technology at Rowan University. He teaches Songwriting, History of Pop, and Audio Recording in their Music Industry department. Teaching is a newer journey for him, one that opened up as a result of his MFA.
In an unrelated but still exciting note, his script Bleed just finished filming and entered post-production. The film stars Robert Patrick (Terminator 2: Judgment Day, True Blood), Jodi Lyn O'Keefe (Vampire Diaries, Prison Break), and Robert Knepper (Twin Peaks: The Return, Prison Break). You'll hear more about that as the film gets closer to release.url clone | 【国内4月24日発売予定】ナイキ ウィメンズ エア アクア リフト 全2色 – スニーカーウォーズ
https://everythingismusic.vcfa.edu/wp-content/uploads/2017/11/Good-at-Goodbye-Bandcamp-Cover.png
1400
1521
Michael Garrett Steele
http://storyboard.vcfa.edu/wp-content/uploads/2018/01/VCFA_logo_nbkgd-300x167.png
Michael Garrett Steele
2017-11-03 15:59:37
2018-02-20 14:00:03
Graduate Scott Barkan releases new album "Good at Goodbye"