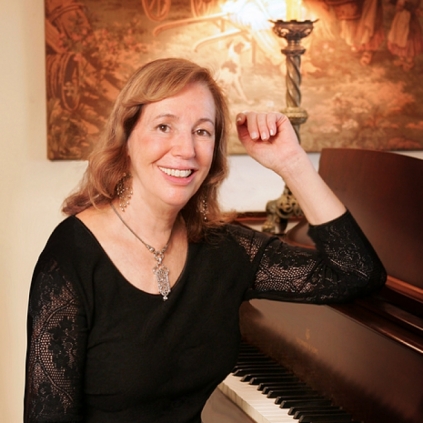 Sandi Klein's "Conversations with Creative Women" podcast hasfeatured VCFA student Bunny Beck in her July 3rd episode. The conversation covered Bunny's musical background, and the way her career as a jazz artist sort of snuck up on her, despite music being a constant thread in her life.
The self-described "sound junkie" and composer talks about her winding path to music. While music was always a part of her life, she journeyed from teaching to several types of counseling work before settling into a musical career. (When she finally started making that transition from psychotherapist to performer, as she bought a piano for her office and started jamming in her off-hours with a local bassist and sax player.)
She also talks about things that have helped her along the way – The Artist's Way by Julia Cameron, a gig in a restaurant that got her noticed by an entertainment company, and her work at VCFA.
Beck's conversation is a fantastic insight both into the winding path to success, but also the nuts and bolts of trying to make a living as a freelance musician. Her work in recording, her self-described "background musician" gigs at parties, and her composition work all combine into a career. Like any artistic career, it involves a lot of hustle.
To hear the full conversation (as well as a piece or two of Beck's) you can listen to the full podcast here.Running Sneakers Store | Nike SB Dunk High Hawaii , Where To Buy , CZ2232-300 , Worldarchitecturefestival
https://everythingismusic.vcfa.edu/wp-content/uploads/2018/07/Bunny-Beck.jpg
700
700
Michael Garrett Steele
http://storyboard.vcfa.edu/wp-content/uploads/2018/01/VCFA_logo_nbkgd-300x167.png
Michael Garrett Steele
2018-07-05 14:52:48
2019-02-05 10:47:42
Bunny Beck Featured on Podcast