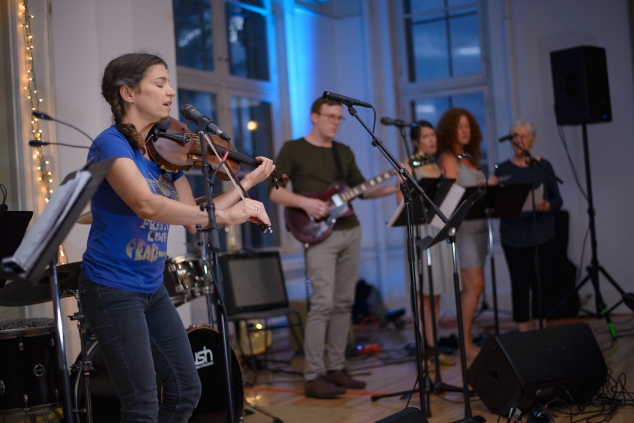 (Photo credit: Anthony Pagani.)
The Music Composition Program at VCFA is preparing its February residency. Notably, this involves a series of concerts that are open to the public. Visiting artists include:
Anna's Ghost, an in-house rock/jazz ensemble with a rotating personnel. This semester features River Guerguerian, percussion; Russ Johnson, horns; Jim Whitney, bass; John Benthal, guitars; Anna Webber, flute and saxophone.
Piano Trio with Geoffrey Burleson, piano; Mary Rowell, violin; David Russell, cello.
Saxophone Quartet, featuring Ken Thomson, Ed RosenBerg, Peter Hess, Jay Rattman
Counterpoint Vocal Quartet, featuring Allison Devery, Erin Grainger, Cameron Steinmetz, and Kevin Quigley, with Music Director Nathaniel Lew.
More information about the individual musicians can be found at the links for each ensemble. But we have some fantastic players. Mary Rowell is a cutting-edge violinist who's worked with everyone from the Tango Project to Joe Jackson. John Benthal has played guitar alongside everyone from Idina Menzel to Harry Connick Jr., and performed in Broadway shows like The Lion King. The musicians at VCFA are top-notch. They include cutting-edge classical performers, avant-garde jazz artists, high-demand session musicians, and film/TV composers. They all assemble to perform student works, as well as offer critique.
All of this is invaluable to young composers. It's no secret that there's no shortage of new composers out there. Learning what makes your music accessible to musicians, or fun to play, or easier to read and interpret, is an incredibly valuable skill, and it can mean the edge in getting picked for performances. All of that falls in line with VCFA's commitment to an education that is as functionally practical as it is theoretically sound.
The ensemble concerts are as follows:
Tuesday, Feb. 6, 8 p.m.: Anna's Ghost
Wednesday, Feb. 7, 8 p.m.: Anna's Ghost and the Piano Trio
Thursday, Feb. 8, 8 p.m.: the Piano Trio and the Saxophone Quartet
Friday, Feb. 9, 3 p.m.: the Saxophone Quartet and Counterpoint Quartet
Saturday, Feb. 10, 3 p.m.: Counterpoint Quartet
Other events include:
Film Music Festival
Sunday, Feb. 4, 8 p.m., Noble Lounge
Several VCFA faculty work as scoring composers. Their combined experience in television, film, advertisement, and video games makes them a force to be reckoned with, and this evening is where their students—and others studying scoring—have a chance to shine.
Electronic Music Showcase
Monday, Feb. 5, 8 p.m., College Hall Gallery
This concert features all types of electronic music. It includes pieces built around electronically manipulated samples and soundscapes. It includes players performing alongside electronic sound and video. But it also includes electronic dance music. The incredibly breadth of musical styles embraced by the program really comes to the fore for this showcase—yet it all fits under the banner of "electronic music."
Songwriting Showcase
Friday, Feb. 9, 8 p.m., College Hall Gallery
Café Anna offers a cash bar while VCFA students offer their heart and soul in the form of song. Like all VCFA events, the breadth here is staggering. Jazz shuffles and funk charts sit comfortably next to slide-guitar solos and even the occasional chant. This is one of the more relaxed events that the school offers, and yet it's still a chance to see noteworthy composers and performers from across the country perform in a comfortable, intimate environment.
https://everythingismusic.vcfa.edu/wp-content/uploads/2018/01/Residency-Photo.jpg
854
1279
Michael Garrett Steele
http://storyboard.vcfa.edu/wp-content/uploads/2018/01/VCFA_logo_nbkgd-300x167.png
Michael Garrett Steele
2018-01-29 03:35:56
2018-02-20 13:57:30
Music Composition Program Readies February Residency