The MFA in Music Composition brings together some of the most exciting and diverse multi-instrumentalists in the country. Each residency features visiting ensembles that rehearse, perform, and record student music. We are excited to announce our summer 2018 ensembles-in-residence: loadbang, Sirius Quartet, Jeremy Siskind Trio, and Talujon (trio).
loadbang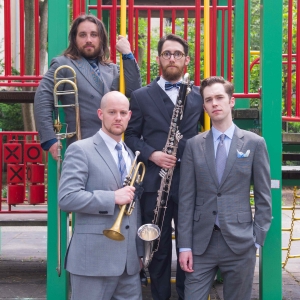 William Lang, trombone
Carlos Cordeiro, bass clarinet
Andy Kozar, trumpet
Jeffrey Gavett, baritone voice
New York City-based new music chamber group loadbang is building a new kind of music for mixed ensemble of trumpet, trombone, bass clarinet, and baritone voice. Since their founding in 2008, they have been praised as 'cultivated' by The New Yorker, 'an extra-cool new music group' and 'exhilarating' by the Baltimore Sun, 'inventive' by the New York Times and called a 'formidable new-music force' by TimeOutNY. Their unique lung-powered instrumentation has provoked diverse responses from composers, resulting in a repertoire comprising an inclusive picture of composition today.
loadbang has premiered more than 250 works, written by members of the ensemble, emerging artists, and today's leading composers. Not content to dwell solely in the realm of notated music, loadbang is known for its searing and unpredictable improvisations, exploring the edges of instrumental and vocal timbre and technique, and blurring the line between composed and extemporaneous music.
Sirius Quartet
Fung Chern Hwei, violin
Gregor Huebner, violin
Ron Lawrence, viola
Jeremy Harman, cello
Internationally acclaimed veterans of contemporary music, Sirius Quartet combines exhilarating repertoire with unequaled improvisational fire. These conservatory-trained performer-composers shine with precision, soul and a raw energy rarely witnessed on stage, championing a forward-thinking, genre-defying approach that makes labels like 'New Music' sound tame.
Having premiered works by significant living composers, Sirius continues their long-running commitment to musical innovation with bold, original works by its own members, pushing beyond the conventional vocabulary of string instruments by incorporating popular song forms, extended techniques, gripping improvisations and undeniable, contemporary grooves.
Jeremy Siskind Trio
Jeremy Siskind, piano
Nancy Harms, vocals
Lucas Pino, clarinet and bass clarinet
The Jeremy Siskind Trio is a jazz trio that moves with the soul of the singer-songwriter movement and the grace of a chamber ensemble. The group has produced two seminal jazz albums that are the shape of a new idiom in small chamber jazz performance.
Talujon (percussion trio)
Described by the New York Times as an ensemble possessing an "edgy, unflagging energy", Talujon has been mesmerizing audiences since 1990. For well over two decades, Talujon has committed itself to the growth of contemporary percussion music through diverse performance, commissioning, educational, and outreach activities.
Highlights of Talujon's recent engagements include appearances at the Brooklyn Academy of Music's Next Wave Festival, Bang on a Can Marathon, Carnegie Hall, ISSUE Project Room, Miller Theatre, and New York Historical Society. International performances include Taipei's Lantern Festival, Italy's Sound Res Festival, and a tour with Steve Reich and Musicians. In addition to its diverse performance schedule, Talujon has conducted residencies, clinics, and master classes at institutions across the US. Locally, Talujon engages in a series of residencies in the New York City Public Schools though the Department of Cultural Affairs After School Adventures program, as well as through a collaboration with the Midori and Friends organization.Best Sneakers | Nike nike air max paris 1 patch 2017 , Sneakers , Ietp STORE
https://everythingismusic.vcfa.edu/wp-content/uploads/2018/03/loadbang.jpeg
3600
3600
Sarah Madru
http://storyboard.vcfa.edu/wp-content/uploads/2018/01/VCFA_logo_nbkgd-300x167.png
Sarah Madru
2018-03-28 11:52:04
2018-06-18 13:15:52
Announcing Summer 2018 Ensembles-In-Residence