In August of 2019, Sarah LeMieux ('19), was at the post-residency bonfire where she and some friends started talking about ennui and the apocalypse. When she returned home, she wrote a song about the end of the world, called "Goodbye, Paris." It is now the first single off the aptly named record "Jazz for the End of the World," featuring Sarah (vocals), Ethan Foote ('20) on bass, Aaron Wyanski ('15) on piano, and Sarah's friend, drummer Andy Chatfield.
The single "Goodbye, Paris" was released on Spotify on March 22.
You can also listen to the live version here.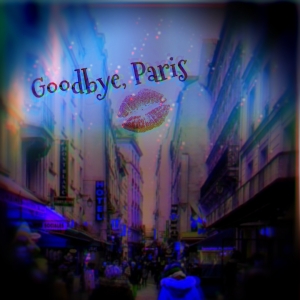 "Jazz for the End of the World" is available on Apple Music.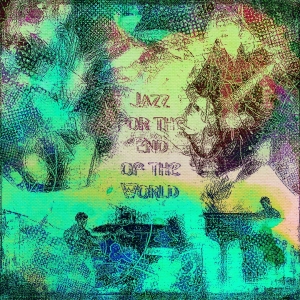 Sarah, Ethan, and Aaron recently sat down via Zoom to answer a few questions about the project. While most of the answers are in Sarah's voice, much like the album, this interview is a collaborative effort.
Can you each tell me a little bit about yourselves?
Sarah: I live in Norwalk, CT, parent my three kiddos and teach and perform. I came to VCFA very much a jazz person, and did absolutely no jazz while I was there, so this is a nice return for me.
Ethan: I came up mainly as a jazz bassist and still play that part a fair bit, and I'm also a composer of concert music as well as a songwriter and arranger. I'm from DC, where I still live.
Aaron: I'm currently based in Pittsburgh where I write, perform, and teach music. I also work part-time at the public library. I have a really varied musical background, but jazz is my first love, even though my graduate work was focused on contemporary concert music.
You all crossed paths at VCFA, but you weren't all enrolled at the same time. How did you meet and get to know each other?
Ethan and I (Sarah) met in workshops and over meals, and had those wonderful conversations that we all have at VCFA. We ended up playing together at the Songwriting Showcase, on my songs, and together on other people's songs, so we had a sense of each other as people and as players. And Aaron and I met because, as he says, he never left VCFA, and liked each other for no reason. What I didn't know was that Aaron had actually talked to Ethan before he enrolled, to answer questions about the program, which is something that I've done for prospective students, too.
What was it that connected you all musically?
We all love jazz, and we all have sort of a Parisian a sense of detachment and ennui 🙂
In seriousness, I think we each really embody our personalities through our playing and our music, and I think our personalities mesh well together – you can hear it in our conversations, as well as in the music we make together. I brought in a friend, Andy Chatfield, whom I had played with in many different situations, and he was just perfect for the situation – he tied the room together.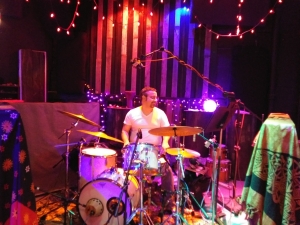 How and why did you decide to work on a jazz album together? Sarah had alluded to a conversation last summer that sparked this project. Can you elaborate on that origin story?
I had actually reached out to Aaron before then, because he was posting these lovely videos of himself playing standards on facebook and instagram, and I was just like, oh man, I need to play with this guy. At the bonfire at the end of residency, there was sort of a fanciful discussion of hypothetical projects that dovetailed with a discussion of ennui and the apocalypse, and I just decided to aggressively pursue making it a reality. I was completely delighted that Aaron and Ethan were so down to do it.
How did the album come together in terms of selecting and collaborating on the pieces?
The album is 8 standards, and one original that I wrote. The way we approached it was to lean into the sort of dystopian underpinnings of many of the titles of great American songbook standards, like "Why Was I Born" – they have a lot of darkness to them that people don't usually express emotionally when they play them, and it seemed appropriate to our discussions of the apocalypse.
Funnily enough, I was actually just thinking about this project and wondering when I'd be able to hear it. The name of the album stuck with me when I first heard it but takes on greater meaning now. What made you decide to release it now?
We had planned to wait to release it on vinyl, but now just seemed like the moment for it, for a number of reasons. When we were recording in the studio, I told a story about how at different times in my life, the fact that there was jazz on the radio felt like a lifeline for me. When we were recording, I really had a sense of collective beauty that we were expressing, that reminded me of that. All the music and art that people are putting into the world right now, it's just reaching out and lifting people up, and bringing people together to listen and create.
How are you all doing now? How is social distancing affecting your lives, professionally as well as personally? How are you continuing to make music and connect with your community of musicians and composers?
Sarah: I'm collaborating a lot, just accepting all these outstretched invitations to make music. I'm teaching remotely and helping my kids with their own remote learning, which is a juggling act, but we're very fortunate to be in that position. I know each of us has lost defined performances.
Ethan: My thesis composition for VCFA has thus far been every bit the herculean task I expected, but it's also been a constant while so much else is in flux, and I'm grateful to be working on it.
Aaron: I'm going full introvert and plowing through all the unread books on my shelf.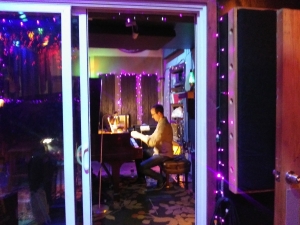 https://everythingismusic.vcfa.edu/wp-content/uploads/2020/04/AE6411E4-F840-445F-8A20-E25E383CFB98.jpg
1080
1080
Sarah Madru
http://storyboard.vcfa.edu/wp-content/uploads/2018/01/VCFA_logo_nbkgd-300x167.png
Sarah Madru
2020-04-01 15:18:52
2020-04-06 10:07:23
Jazz for the End of the World